Find competitive rates,
fast
Get tailored rates quickly and efficiently with Yield Exchange, the all-in-one treasury management platform that is revolutionizing how Canadian businesses search, compare, and negotiate for GIC rates.
Connect with dozens of financial institutions










Yield Exchange makes it easy to find the most competitive rates
With Yield Exchange, the process of shopping around for rates has never been more simple. Get access to rates from over 20 regulated financial institutions in mere seconds.
High interest savings account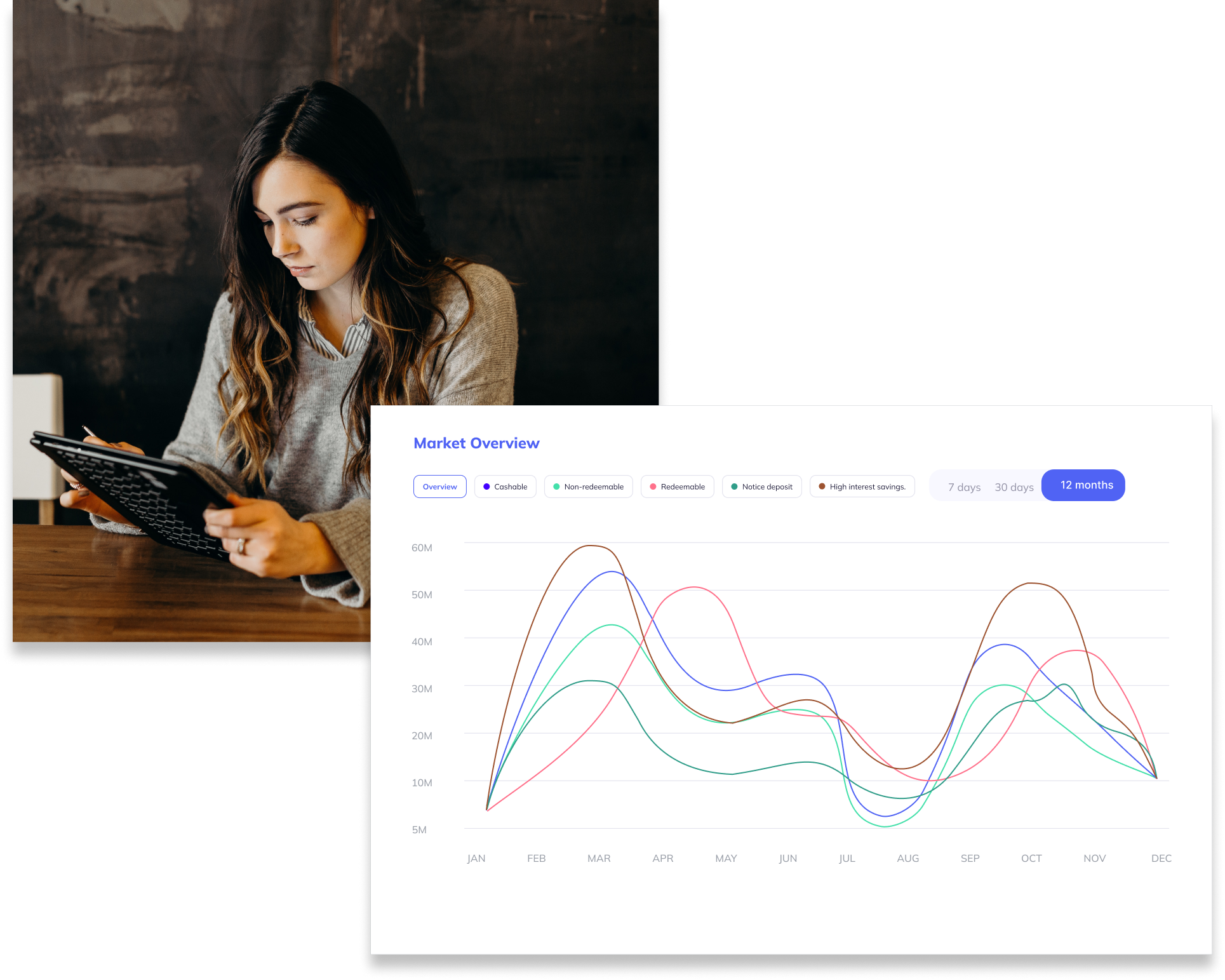 easy process
Yield Exchange simplifies the process of shopping for rates
Connect immediately to over 20 financial institutions in Yield Exchange. Our central platform makes it easy to reach the right people without the manual effort of making phone calls or tracking emails.
Yield Exchange gives better oversight into your investment process
Yield Exchange gives you the best perspective into your investments because everything happens in one, central platform. The days of relying on hard-to-manage spreadsheets are over.
Ready to get started?
Getting started is easy and free.
Frequently asked questions
How much does Yield Exchange cost?

There are no fees for depositors.
Is Yield Exchange a broker?

No. Yield Exchange helps connect depositors to financial institutions, however we will never hold onto any money and you will be in direct contact with the financial institution you choose.
Does Yield Exchange work for all types of organizations?

Yield Exchange can work with all types of organizations, like:

Municipalities
Universities
Non-Profit Organizations
Indigenous Communities
Small-Medium Businesses
Corporations
What does onboarding look like with Yield Exchange?

It's super easy - go to the sign up link, and get yourself an account, after that someone from our team will check in on how you're progressing and share some more formal tips and tricks to getting the most out of Yield Exchange.
How is Yield Exchange different from a rate aggregator?

Unlike an aggregator, our treasury management platform connects you directly to the financial institution, so every rate you get is entirely unique, and customized to your posted request.
Can I use Yield Exchange for my personal investments?
Are there fraud risks with Yield Exchange?

Absolutely no fraud risk since Yield Exchange doesn't hold on to any money.
What if I change my mind and no longer want to invest?

No problem! You are not obligated to go through with any of the investments.
Does Yield Exchange operate outside of Canada?

At the moment Yield Exchange only operates within Canada. But stay tuned we plan on expanding into other global markets including the United States very soon.
Diversification becomes so much easier with a tool like Yield Exchange. For our municipality, we've gone from having

3 banking relationships to more than 7

now.
All tech founders who are sitting on idle cash should leverage Yield Exchange to shop and get competitive GIC rates!

Not only did I get better rates, the platform is super easy and seamless to use

- literally took me under 30 seconds to receive rates from several reputable FIs.



Get started with Yield Exchange
Open a Yield Exchange account for free, and feel confident that you are getting the absolute best rates.